Assessment-Related Materials, Forms, Documents, and Equipment
The following items are needed as part of the Assessment Process. Click the graphics where available for more details and information about ordering.

DISCOVER Assessment "Agreement for Use"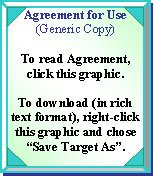 When your school or school district decides to implement the DISCOVER Assessment or receive Assessment Training, we draft a document called an "Agreement for Use". This legal agreement specifies understandings between DISCOVER, the University of Arizona, your school district, and any individuals being trained to use DISCOVER techniques. Each Agreement for Use is customized to reflect the details of your particular implementation or training. A generic copy can be read or downloaded by clicking the graphic. A representative of the school district signs Part A. For Assessment Trainings, each Observer Candidate signs Part B. Trainer Candidates sign Part C, when applicable.







Assessment Forms (Protocols)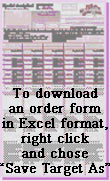 The Assessment uses five different pre-printed forms for recording Observation data. The names of the forms are:

Behavior Checklist (6 pages grades K-8, 8 pages grades 9-12)

Observer Notes—Spatial Artistic (1 page)

Observer Notes—Spatial Analytical (1 page)

Observer Notes—Oral Linguistic (1 page)

Math Worksheet (1 page, front and back)
If DISCOVER staff Observers are conducting your Assessment, you do not need to order any forms because they will be provided. Otherwise, if your school is conducting its own Assessments, the appropriate number of forms need to be ordered in advance, from DISCOVER. When ordering forms, keep in mind that you will need one Behavior Checklist and one Math Worksheet for each student to be assessed. However each of the Observer Notes sheets can accommodate up to 5 students, meaning you need only one for every 5 students assessed. A typical order might be as follows: If your school is planning to assess 300 students, order at least 300 Behavior Checklists, 60 Spatial Artistic Observer Notes, 60 Spatial Analytical Observer Notes, 60 Oral Linguistic Observer Notes, and 300 Math Worksheets. You should order a few extra of each form in case some are filled out improperly and need to be replaced.
You can order Assessment forms either by phoning in the order directly to the DISCOVER office, by requesting a fax order form, or by downloading the order form in Excel format (graphic to the left) that can be filled in and e-mailed back to DISCOVER.
Note: Assessment forms are written on during the Assessment and later stored as physical records. Therefore, a new set of forms is needed for each Assessment (i.e. they are not re-usable).


Other Assessment Documents
Observers use numerous documents while implementing and debriefing the Assessment. These documents are provided to Assessment teams during their initial Assessment training; updates are mailed periodically as needed. The documents exist in digital form and are given to teams on a CD, to be printed and photocopied in appropriate numbers. Each set of documents has a version number and all schools using the DISCOVER Assessment are asked to use the most current versions, as available. All Assessment documents are in Word or Excel format and work best when printed from a PC.

Assessment Materials

Each of the three "observed" Assessment activties require supporting materials, as described below. These materials vary somewhat, by age group being assessed. Each Assessment team must purchase and maintain their own sets of materials. The items are fully reusable for many Assessments, until broken or lost. Most items are ordered directly from the retailers that carry the products. Click the respective graphics for ordering information.

Spatial Artistic Activity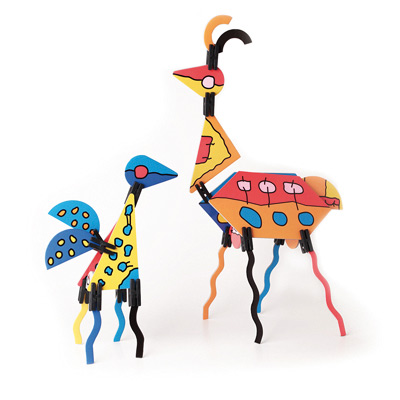 Assessments of Grades K-8: The Spatial Artistic activity, for lower grades, uses brightly colored cardboard pieces called Art Uris. In addition to the cardboard pieces, Art Uris sets come with plastic connectors, allowing students to connect the pieces in many interesting ways. Assessment teams need to order extra sets of these connectors because not enough come with the regular Art Uris set. One Art Uris set (with extra connectors) is needed for each table of five students. Thus if your team will be assessing classrooms of 25 students (five groups of five) you will need to order five Art Uris sets and five sets of extra connectors. Most Teams store Art Uris materials in large, individual, and closeable plastic bags. The contents of the bags are dumped out into the middle of the respective tables during the activity and the connectors are divided equally between the students.
Note: Art Uris sets are fully re-usable for future Assessments. Therefore, the purchase of Art Uris materials is a one-time purchase, unless normal wear and tear requires the sets to be augmented or replaced.
Click here for Art Uris Ordering Information
Assessments of Grades 9-12: The Spatial Artistic activity for higher grades does not use Art Uris sets, but instead provides students with a variety of art supplies, to be used in creating Spatial Artistic "products". Each table should have its own set of art supplies that include various-sized paintbrushes, watercolor paint sets, pastels, chalk, paper, scissors, tape, stick glue, paper glue, and clay.
Note: Artistic materials should be augmented or replaced as needed.
Spatial Analytical Activity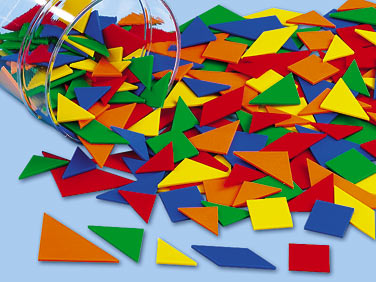 The Spatial Analytical activity uses Tangram pieces at all grade levels. Tangrams are small geometrical shapes that can be purchased from many retail outlets. Important: Be sure to purchase the correct style of Tangram. DISCOVER uses the standard, plastic pieces that when placed together in the shape of a square, measure 10cm per side. These standard sets contain seven pieces as follows: 2 large triangles, 1 medium triangle, 2 small triangles, 1 square, and 1 parallelogram. Typically standard sets come in four colors (blue, green, yellow, and red) but you may also find them with purple or orange. Make sure your Tangrams comein at least the four basic colors. For your convenience, the graphic to the left takes you to a supplier where you can purchase Tangram sets in bulk quantity. Tangrams can be purchased from other suppliers as well. Just make sure to choose the correct sets, as described above.
The DISCOVER Assessment requires that three of these 7-piece sets be combined to make a 21-piece set, for each student being assessed. The 21-piece set should contain pieces that are all the same color (i.e. combine three blue sets or three green set, etc.). Thus each student will receive his or her own 21-piece set of Tangrams, containing 6 large triangles, 3 medium triangles, 6 small triangles, 3 squares, and 3 parallelograms. Observers usually store these sets in separate, recloseable plastic bags.
Ordering Tangrams: If your team will be assessing a classroom of 25 students, you will need to order at least 75 (7-piece) sets of Tangrams. The ID for ordering sets of tangrams is RA272. Bulk Tangrams will come in the different colors automatically. However, if you will be ordering individual sets, make sure to purchase at least the four basic colors. (We give students sitting next to each other different colored Tangrams because of the tendency to want to trade pieces, a practice not allowed in this activity).
Click here for Tangrams Ordering Information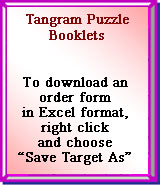 Ordering Tangram Puzzle Booklets: In addition to the Tangram pieces, the Spatial Analytical activity requires Tangram puzzle booklets. These booklets contain six laminated and bound pages, and can be ordered from DISCOVER. You will need to order one booklet per student being assessed. Thus a typical team will order approximately 30 booklets (to have a few extras, if needed). With the booklets, we also send out individual pages called "Challenge Puzzle Pages", which are given to students who are able to complete the entire puzzle booklet during the activity and need additional challenges.



Note: Both the Tangram pieces and Tangram Puzzle Booklets are fully re-usable for future Assessments.


Oral Linguistic Activity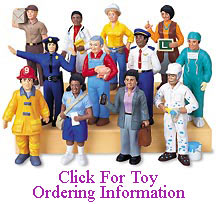 Assessments of Grades K-5: For these grades, the Oral Linguistic Activity uses a specific set of small toys that serve as catalysts for generating stories. Each student being assessed receives a bag of toys that contains 2 people, 1 wild animal, 1 domestic animal, 1 wheeled toy, and 2 things (general category). Thus a typical Assessment team serving a classroom of 25 students will need toys as follows: 50 people, 25 wild animals, 25 domestic animals, 25 "wheeled" toys, and 50 "things" (any category). Realistically, however, you should order extra toys in all categories to replace those that become damaged, lost, or souvenirs. We have had good success with toys available at "Lakeshore Learning Materials". To order the proper sizes and categories, reference the following catalogue numbers: Lakeshore Block Play People (AA203, Hispanic; AA204, Native American; AA202, Asian; AA201, White; AA205, Black and/or AA200X to have one of each). Other good choices include the following: Lakeshore Play People with Differing Abilities (RR759), and Lakeshore Community Block Play People (RR637). For animals, you can choose between Classic Farm Animals (RR402); Soft & Squeezy Farm Animals (RA367); Classic Wild Animals (GG347); Soft and Squeezy Wild Animals (RA 362); Domestic Animals
(RR402); For vehicles, look at the following: Tub of Cars and Trucks (DC177) and Cars, Planes & Trains (RA776). Thing—any category.
Assessments of Grades 6-12: The Oral Linguistic activity for these grades uses a combination of pictures (projected on the wall) and a bag of items, as described below. One bag of items should be prepared for, and given, to each student being assessed. The approximate contents of each bag should be (1 item each): coin/key, leather, rough rock/shell, smooth rock, something soft, something old, something new, bauble/bead, something/sculpture.




Assessment Equipment
Each team should secure or purchase the following equipment, for use during the Assessment:
One camera per Observer
One recorder per Observer

Extra batteries for the recorders and cameras

Access to a printer and photocopy machine

Digital projector and laptop (for grades 6-12)

Rollable bins to hold Assessment materials, forms, and equipment